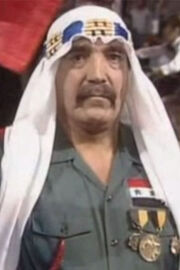 Adnan Bin Abdul Kareem Ahmed Alkaissy El Farthie (born March 1, 1939), better known professionally as Adnan Al-Kaissie, is a former Iraqi professional wrestler and manager best known as Sheik Adnan Al-Kaissey, Billy White Wolf, or General Adnan. In 1971 he defeated
André the Giant
in Al-Shaab Stadium in Baghdad, under the auspices of his former friend at high school Saddam Hussein. He competed in the
World Wide Wrestling Federation
(WWWF). On December 7, 1976 he won the WWWF World tag team championship with
Chief Jay Strongbow
.
In 1981, Adnan Al-Kaissie joined the American Wrestling Association (AWA), in 1990 he joined the World Wrestling Federation (WWF formerly WWWF), where he managed Sgt. Slaughter under the name "General Adnan". He competed at WWE SummerSlam 1991 with his partners Sgt. Slaughter and Col. Mustafa in a Handicap match with Sid Justice as special guest referee against Hulk Hogan and The Ultimate Warrior.
Ad blocker interference detected!
Wikia is a free-to-use site that makes money from advertising. We have a modified experience for viewers using ad blockers

Wikia is not accessible if you've made further modifications. Remove the custom ad blocker rule(s) and the page will load as expected.