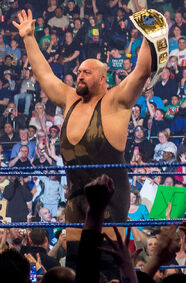 Paul Donald Wight (born February 8, 1972) is an American professional wrestler, better known by his ring name,
Big Show
. Signed to
WWE
, Wight is a seven-time world champion, having won the WCW World Heavyweight Championship twice, the WWF/E Championship twice, the ECW World Championship once, and the World Heavyweight Championship twice. He is the only wrestler to have held all four titles. Wight has also won the WWE Intercontinental Championship once, the WWE United States Championship once, and the WWE Hardcore Championship three times.
Wight is an 11-time world tag team champion, having won the WWE's World Tag Team Championship five times (twice with The Undertaker, and once each with Kane, Chris Jericho, and The Miz), the WWE Tag Team Championship three times (once each with Jericho, Miz, and Kane), and the WCW World Tag Team Championship three times (once each with Lex Luger, Sting, and Scott Hall).
Big Show is the 24th WWE Triple Crown Championship, and 12th WWE Grand Slam Championship winner in WWE history. Between WWE and WCW, Wight has held 23 total championships. He was also the winner of WCW's annual World War 3 60-man Battle Royal in 1996, and has headlined many pay-per-views for WCW and the WWF/E since the mid-1990s, including the 2000 edition of WWE's premier annual event, WWE WrestleMania.
Outside professional wrestling, Wight has appeared in feature films and television series such as The Waterboy, Star Trek: Enterprise, and USA Network's comedy-drama Royal Pains and the action-drama Burn Notice. In 2010, he had his first major role in the comedy film Knucklehead, which was produced by WWE Studios. Wight has said he would like to continue his acting career and expand beyond roles based on his size.
Ad blocker interference detected!
Wikia is a free-to-use site that makes money from advertising. We have a modified experience for viewers using ad blockers

Wikia is not accessible if you've made further modifications. Remove the custom ad blocker rule(s) and the page will load as expected.