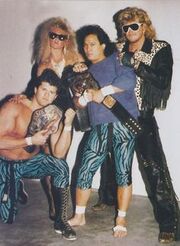 Badd Company was a professional wrestling tag team in the
American Wrestling Association
in the late 1980s, which later went by the name the Orient Express. It is rumored that the team name was derived from the rock band Bad Company. In fact, the band's song "Bad Company" was used as Badd Company's theme song. The team featured
Paul Diamond
and
Pat Tanaka
.
Pat Tanaka, who is Hawaiian, signed with the World Wrestling Federation (WWF), where he formed another tag team called The Orient Express with Akio Sato, managed by ]]Mr. Fuji]]. Paul Diamond was soon signed with the WWF as well, as a singles competitor.
When Sato decided leave the American wrestling scene, Diamond donned a mask and wrestled as "Kato" with Tanaka throughout 1991 and early 1992. During this time the team had a very well received match with their old enemies The Rockers at WWE Royal Rumble 1991. and another match against The New Foundation at WWE Royal Rumble 1992, which were the only two PPV appearances for the New Orient Express.
Sato briefly rejoined the team in 1991 to team with Tanaka and "Kato" for a series of 6-man tag-team matches on various WWF house show but Sato left the WWF after only a handful of matches together. Tanaka would leave the WWF in February 1992. Diamond went on to wrestle as a singles competitor in the WWF first as Kato then later on he was chosen to take over the Max Moon costume after Konnan left the WWF, neither gimmick meeting with very much success.
Ad blocker interference detected!
Wikia is a free-to-use site that makes money from advertising. We have a modified experience for viewers using ad blockers

Wikia is not accessible if you've made further modifications. Remove the custom ad blocker rule(s) and the page will load as expected.