The Australian Womens Championship was introduced in 2011 into PWAQueensland as the Queensland Womens Championship and served as Queensland's only title for females. The championship replaced the PWWA Championship which had been defended regually in PWAQ. Upon PWAQ's closure, the title became a national championship and was defended around the country primarily in AWF in Sydney and Snakepit in Adelaide. The Womens Championship can boast being the most widely defended championship in Queensland Wrestling having been defended in four Australian states since its creation. Whilst it was not defended there, the championship also traveled to Japan in 2012 and is the only non-AWF Championship to be defended at the Supanova Pop Culture Convention.
Championship Lineage
Edit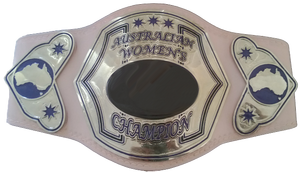 Stipped - March 1 2015 - Unprofessional Behavior and refusal to defend the title
Ad blocker interference detected!
Wikia is a free-to-use site that makes money from advertising. We have a modified experience for viewers using ad blockers

Wikia is not accessible if you've made further modifications. Remove the custom ad blocker rule(s) and the page will load as expected.