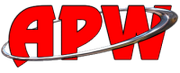 All Pro Wrestling
is an independent professional wrestling promotion and training school, based in Hayward, California, USA. The company was founded by Roland Alexander and managed by him until his death on November 5, 2013. It is located 45 miles southeast of San Francisco, 15 miles south of Oakland, and 35 miles north of San Jose.
Current Championships
APW Universal Heavyweight Championship
APW Worldwide Internet Championship
APW Tag Team Championships
APW/Vendetta Pro Unified Tag Team Championship
Defunct Championships
APW Junior Heavyweight Championship
APW Above The Law / Future Legends Championship
Return To
Edit
Ad blocker interference detected!
Wikia is a free-to-use site that makes money from advertising. We have a modified experience for viewers using ad blockers

Wikia is not accessible if you've made further modifications. Remove the custom ad blocker rule(s) and the page will load as expected.