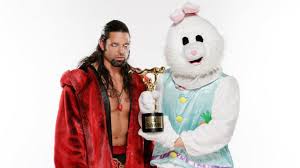 Raymond Leppan (born 20 July 1979) is a South African professional wrestler. He was recently signed to
WWE
, where he performed under the ring name
Adam Rose
. He is a former two-time FCW Florida Heavyweight Champion under the ring name Leo Kruger.
On 16 April, Rose was suspended for 60 days after his second violation of the company's Wellness Program. On 20 April, Rose publicly addressed his suspension as "not right", saying "I did not do anything knowingly wrong and was taking prescribed medication that my [doctor] and I followed all the correct protocol on." On 3 May, Leppan posted a doctor's handwritten note on his Twitter feed, indicating that he had been prescribing Leppan Adderall XR to treat ADHD. Leppan wrote that WWE had known he had the prescription for over a year. On 11 May, Rose was arrested in Hillsborough County, Florida for domestic violence and tampering with a witness. Later that day, WWE announced that as a result, Rose had been suspended indefinitely. On 23 May, Rose requested, and was granted his release from WWE.
Ad blocker interference detected!
Wikia is a free-to-use site that makes money from advertising. We have a modified experience for viewers using ad blockers

Wikia is not accessible if you've made further modifications. Remove the custom ad blocker rule(s) and the page will load as expected.